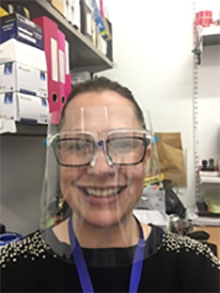 Rachel was referred into the Step Ahead Employment Programme in August 2020, after being made redundant during the Coronavirus pandemic. She had been working as a Sales Assistant at O'Neil's for over 5 years. This came at a particularly hard time for Rachel as she had recently moved house becoming a RBH tenant and a guardian for an 8 year old child.
Rachel didn't let this get her down, she remained positive and motivated. She was determined to get back into work. She saw the Re-connect flyer on Facebook on The Get Rochdale Working page and got in touch. Rachel was looking for part time work to fit around her caring responsibilities. She had thought about changing her career and took up a Digital Skills course with Hopwood Hall - distance learning due to the pandemic – RBH have helped with funding a lap top for this too.
She started sending out her CV and applying for lots of different vacancies and it wasn't long before she got an interview.
In October, Rachel had an interview for the Cancer Research Charity Shop in Rochdale, and then a trial day, before being told she had secured herself a job!  Rachel has now completed her training week and started at the shop as a Sales Assistant. We wish Rachel every success in her future role.