Back in September we ran a competition, giving tenants the chance to win a Chromebook laptop by simply registering their MyRBH account. We are happy to announce that Anthony, a tenant from Littleborough has won the prize and like thousands of other tenants, is managing his home, paying rent and able to report repairs from a few simple clicks.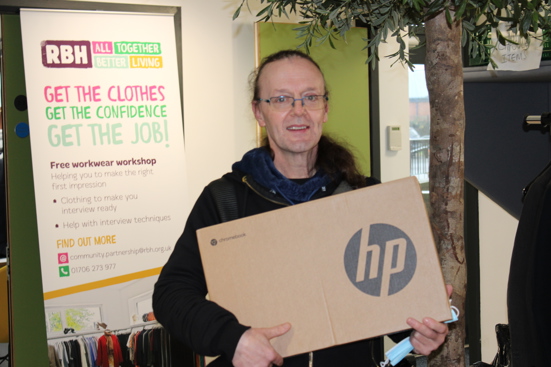 On winning the prize Anthony said: 
"I can't believe I won it. I didn't think it was real at first, but when I was called to say I won the laptop, I was really made up." He also went on to say: "I like to use MyRBH for paying rent and reporting repairs, it's a lot easier than having to phone up and I like the fact that its all in one place, rather than having to do things across different sites."
Other tenants have also provided feedback recently stating: 
"It's great that you don't have to wait time on the phone, especially on busy work days." 
"Being online makes it easier for me to report repairs and rent."
"Its like a one stop shop for everything you want." 
"It's very easy to use, it gave me an instant appointment and its easier than using the telephone, and having to wait in a que." 
There's more to come 
We are still developing the services available through the MyRBH customer portal and have been capturing tenant feedback to learn about how we can improve it. Bede Nicholson (Website & Digital Services Manager) said: "There's more to come with MyRBH. The next 12 months will see new features released and further opportunities for tenants to test and have their say on them."
Register your account
By registering for a MyRBH account, it puts you in control and gives you access to services 24/7. If you've not registered your account yet, click on the following link to do so - Register for MyRBH