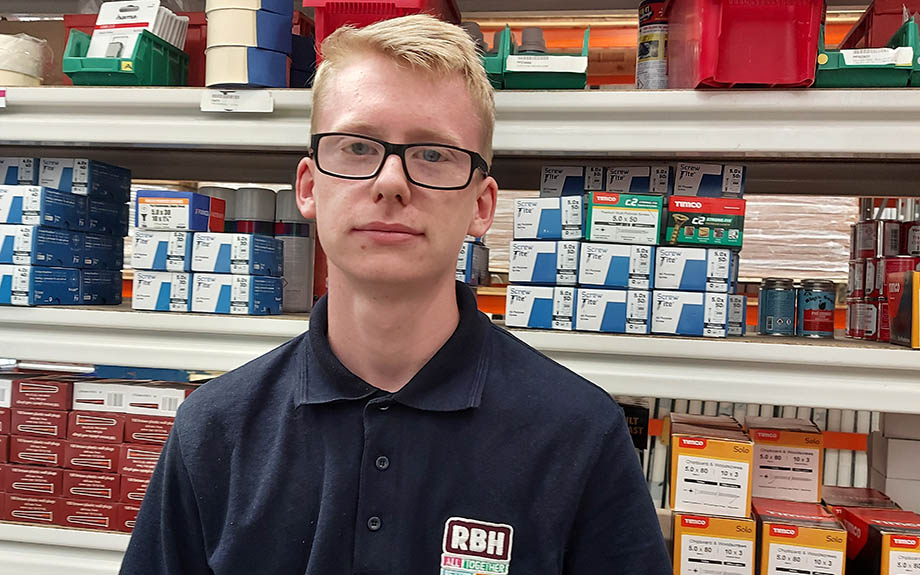 RBH has worked over recent years with Groundworks Greater Manchester to support their Green Team Land Apprenticeship programme and were pleased to have a further opportunity to work together recently to offer work placements as part of the Prince's Trust Programme which Groundwork Greater Manchester deliver from their Rochdale Spotland Community Centre base. 
Open to 16-25 year olds who are not in education, training or employment, The Prince's Trust programme is delivered over 12 weeks and gives participants the chance to grow in confidence and develop resilience as they participance in an exciting 4 days of outdoor activities and contribute to local community projects. All participants also get the chance to gain additional qualifications and complete a 2-week work placement with a local employer. 
Lewis Hopley, a local resident, joined RBH on work placement in late June has been on based at our Stores Depot in Kingsway, central Rochdale.
Under the supervision of Stores Manager Robert Fielding, he's had the chance to get involved with different aspects of team's work including logging and unpacking incoming deliveries, collating orders for collection and helping to deliver larger items to sites across the borough. And the feedback on Lewis has been really positive, with his strong work ethic and commitment to the role appreciated by the whole team. 
Lewis attended St Cuthert's RC High School in Rochdale leaving with a strong set of GCSE results last year. With high hopes of joining the military he had initially gone on to enrol at Military Preparation College in Failsworth. Unfortunately, due to medical eye condition he was unable to pursue this further and joined the Prince's Trust Programme who have been supporting him to look at his options since. 
Lewis is now feeling much more optimistic about the future and is considering his next steps. Talking about how he'd benefited from the placement, Lewis said 
"I've really enjoyed the placement with RBH, everyone has been so friendly and welcoming. I like being physically active, so this role has  given me a chance to think about the sort of work I'd like to do longer term. I'd definitely think about working for RBH in the future. 
Michael Taylor, Princes Trust Team Leader said "We're really pleased RBH has offered young people on our programme the opportunity to complete a period of work experience with the organisation. It offers them insight into the world of work and the jobs available within the borough, it builds confidence and employability skills and helps to prepare them for their futures." 
We're really pleased that Lewis enjoyed his placement with us wish him every success with his future career.  
For more information about Groundwork Greater Manchester's Princes Trust Programme contact Michael Taylor at Michael.taylor@groundwork.org.uk.  For details about RBH work placements please visit our website.