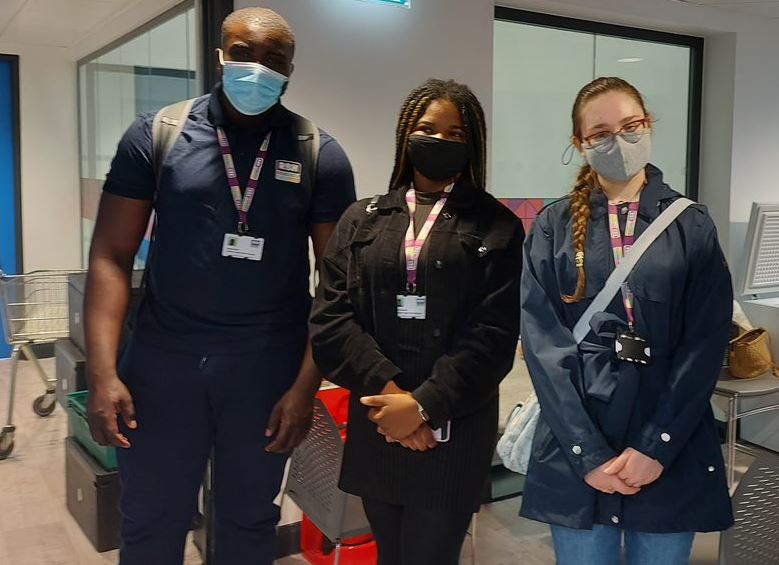 Earlier this month we welcomed 3 sixth form students from Cardinal Langley RC High School in Middleton who spent a week with some of RBH's community-based teams on work placement to help prepare them for the world of work and to develop their understanding of the role RBH plays in delivering services for tenants and supporting local communities. As a local anchor organisation, RBH is committed to supporting local people to upskill and access high quality employment opportunities and we were really pleased to offer Angola, Faith and Olivia work experience placements with us.
All three students are currently studying A Levels at Cardinal Langley Sixth form and during the week spent time with colleagues based in our Community Paint Shop Scheme, our Neighbourhoods Team and our Community Investment team.
Anjola joined our Community Paint Shop Repaint scheme. Sponsored by Dulux, the scheme redistributes surplus paint supplies at significant discount to tenants, local residents and community groups. Anjola enjoyed learning about how the scheme works, processing stock, carrying out van deliveries and seeing the benefits to local residents and the wider community. Speaking about how he'd benefited from the placement, he said:
"Being on placement with RBH has really helped develop my communication skills, as dealing with customers and tenants has been a new experience for me. I've grown in confidence to speak openly with customers and realised how important it is to greet everyone with a smile."
Faith, who enjoyed a varied week with the Neighbourhood Housing team, had the opportunity to undertake accompanied visits to tenants' properties, carried out neighbourhood walkabouts and learnt about the support offered to our more vulnerable tenants. Speaking about her experience on placement Faith said:
"I've learnt a lot from this placement including how important it is to treat everyone fairly and to hear both sides, something RBH always tries to do, it's one of their Values. Being with the Neighbourhoods Team has helped me learn to communicate with people from a range of backgrounds and to be more inclusive. There's definitely a lot I'll take from this opportunity which will help me in my future career."
Finally Olivia, an RBH tenant, spent a week with the Community Investment team learning about how RBH helps fund local health, work and financial inclusion projects through the RBH Members Community Fund. She got the chance to get stuck in and get her hands dirty when she visited our Q Gardens Project, the Kirkholt Arts and Crafts Project and lent a hand with the Kirkholt Pantry Scheme. Based at the Strand Community Hub in Kirkholt, this scheme redistributes surplus food to offer members a weekly shop worth approximate £15 for a weekly membership fee of £3 and has grown its membership base during Covid.
Reflecting on her RBH placement Olivia said "the placement has definitely helped me learn more about what working environments are like and it's made me more aware of the extent of people's needs within the community."
Rhiannon Thomas, Work and Skills Co-ordinator at RBH commenting on the placements said "We're thrilled to provide opportunities for Rochdale young people to experience the world of work and the wide range of careers opportunities available within the housing sector. All three students have been really enthusiastic during their time with us, and we hope they better understand the valuable contribution housing providers can to supporting local communities and they feel more prepared to enter the world of work. We wish them every success with their ongoing studies and future careers."