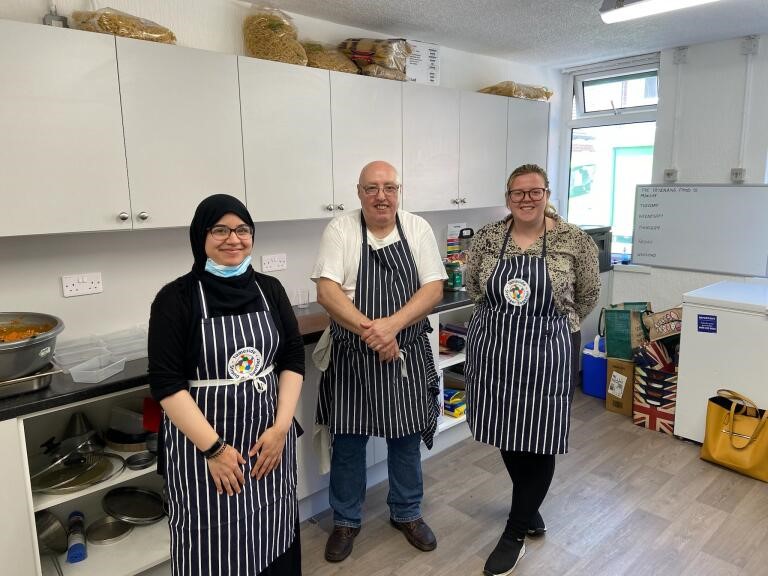 RBH works closely with partner organisation to deliver projects which benefit our local communities. One such organisation is the Veterans Food Company which delivers the Rochdale Community Cooking Programme to help unemployed local residents develop cooking skills which longer term may lead to progression into training, FE courses, employment.
Run by Noel Goulding, founder of the Veterans Food Company, the first programme launched on 19 July 2021 at the Strand Community Hub in Kirkholt and will run for12 weeks. A further two programmes are planned offering an additional 10 places. Participants on the course get the chance to develop a broad range of cooking skills in a supportive environment along with the opportunity to build some great friendships too.
Veterans Food Company are part of the Rochdale Food Solutions Network so some of the ingredients used are sourced from surplus food distributed by major retailers through the Network, helping reduce waste and meet local need. Around 35 of the meals produced each week are delivered by HMR Circle to older Rochdale residents, including RBH tenants living at our Independent Living Schemes, helping ensure they receive a nutritious and tasty meal. The remainder are delivered to Leopold Court, one of RBH's Homeless accommodation centres.
Commenting on the programme Noel said "Approximate 60 people a week are benefiting from the programme across Rochdale, Heywood and Middleton with fantastic feedback from volunteers and beneficiaries which has utterly amazing and truly heart-warming. We hope that the programme will keep running as successfully as it has been by benefiting members of the community who are vulnerable, helping to build on their strengths and develop new skills".
For further information about the Veterans Food Company and future programme start dates visit the Veterans Food Company website or contact Noel on 07906 482897 or by email at noel@theveteransfoodco.com